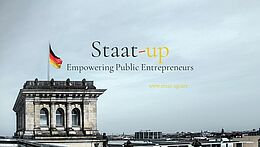 Staat-up is a network by and for public sector employees who aim to become better leaders and change agents in the public sector.
The common goal is to transfer successful leadership, collaboration and innovation practices to the public sector and to continuously develop them further with the aim of modernizing administrative activities and thus being able to fulfill the various assignments more effectively and efficiently even under the changing framework conditions.
Staat-up activities
Through peer group learning approaches that have been established in successful entrepreneurship networks for decades, the members of Staat-up help each other to become better leaders and shapers of change.
Staat-up organizes observations and visits for public sector employees in start-ups and social start-ups in order to enable them to learn from them and to overcome career silos.
The association advocates more direct cooperation between the public sector and the best innovators in the start-up and social start-up ecosystem. An important aspect here is to promote public procurement of start-ups in order to make the innovations and innovative working methods of the start-up ecosystem accessible to the public sector.
Further information at www.staat-up.net